يشير الاجتماع الوزاري للاتحاد من أجل المتوسط حول الاقتصاد الأزرق لعام 2015 إلى الاقتصاد الأزرق على أنه "مجموعة الأنشطة البشرية التي تعتمد على البحر و/ أو المدعومة بالتفاعلات البرية والبحرية في سياق التنمية المستدامة، ولا سيما القطاعات الصناعية والخدمية مثل تربية الأحياء المائية، مصايد الأسماك، والتكنولوجيات الحيوية الزرقاء، والسياحة الساحلية والبحرية، والشحن، وبناء/ إصلاح السفن، والموانئ، وطاقة المحيطات والطاقة البحرية المتجددة، بما في ذلك الرياح البحرية، والتي تعد من بين القطاعات البحرية الاقتصادية التقليدية والناشئة في حوض البحر الأبيض المتوسط "(* 1).
في الاجتماع الوزاري للاتحاد من أجل المتوسط حول الاقتصاد الأزرق الذي عقد في بروكسل في 17 نوفمبر 2015، أقر الوزراء من دول الاتحاد من أجل المتوسط البالغ عددها 43 دولة إمكانات الاقتصاد الأزرق لتعزيز النمو والوظائف والاستثمارات والحد من الفقر مع التأكيد على أن البحار الصحية هي عوامل محركة وعوامل تمكين على الاقتصادات الوطنية والإقليمية.
يسمح الاقتصاد الأزرق المستدام للمجتمع بالحصول على قيمة من المحيطات والمناطق الساحلية، مع احترام قدرة المحيطات على المدى الطويل لتجديد مثل هذه الأنشطة وتحملها من خلال تنفيذ ممارسات مستدامة. وهو ما يعنى ضمناً أن الأنشطة البشرية يجب أن تدار بطريقة تضمن صحة المحيطات وتحمي الإنتاجية الاقتصادية، بحيث يمكن تحقيق الإمكانات التي توفرها واستدامتها بمرور الوقت (* 2).
من حيث التطور، كان الاقتصاد (لكل من إجمالي القيمة المضافة (GVA) والعمالة) ينطلق في أحواض البحر الأبيض المتوسط خاصة على مدى السنوات الثلاث الماضية، لا سيما في شرق البحر الأبيض المتوسط، مدفوعًا بتوسع السياحة الساحلية (* 2).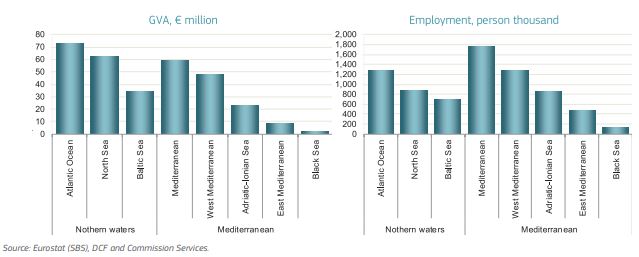 الشكل 1 الاقتصاد الأزرق في الاتحاد الأوروبي عن طريق حوض البحر، 2017: إجمالي القيمة المضافة (GVA) والعمالة

الشكل 2 الاقتصاد الأزرق لحوض البحر الأبيض المتوسط حسب القطاع، 2017: إجمالي القيمة المضافة والتوظيف
ومع ذلك، فإن البحر الأبيض المتوسط هو نظام بيئي هش يعاني من ضغوط مختلفة مثل الصيد الجائر والتلوث والصيد غير القانوني وتدهور السواحل وتغير المناخ والقمامة البحرية، من بين تأثيرات أخرى. تشير الدراسات إلى أن متوسط كثافة البلاستيك في البحر الأبيض المتوسط هو عنصر واحد لكل 4 م 2، ليصبح حوضًا به تراكم كبير من حطام البلاستيك (* 2).
من المتوقع أن تؤثر أزمة كوفيد-19 الأخيرة بشكل كبير على قطاعات الاقتصاد الأزرق في البحر الأبيض المتوسط مثل السياحة والنقل البحري ومصائد الأسماك. على سبيل المثال، فقد انخفضت أسعار منتجات المصايد البحرية في المنطقة بنسبة تتراوح بين 20٪ و70٪ خلال تفشي فيروس كورونا المستجد (كوفيد -19) مدفوعًا بشكل أساسي بالانخفاض الحاد في الطلب من صناعة الفنادق/ المطاعم/ السياحة، والقدرة المحدودة على التصدير إلى الأسواق الدولية والإفراط المؤقت في توافر الأسماك الطازجة مما يؤدي إلى الهدر (* 3).
يمكن العثور على المنشورات والتقارير الرئيسية المتعلقة بالاقتصاد الأزرق في مكتبة الاقتصاد الأزرق.
(*1) Union for the Mediterranean (2015), Ministerial Conference on Blue Economy, http://ufmsecretariat.org/wpcontent/uploads/2015/11/2015-11-17-declaration-on-blue-economy_en.pdf
(*2) Cózar, et al, 2015. Plastic accumulation in the Mediterranean Sea. PLoS One 10, e0121762.
(*3) FAO & CMCM, 2020. Fisheries and Aquaculture in the Mediterranean and Black Sea: A preliminary analysis of the impacts of the Covid-19 crisis.