The Union for the Mediterranean (UfM) is an intergovernmental institution bringing together the 28 European Union Member States and 15 countries from the Southern and Eastern shores of the Mediterranean to promote dialogue and cooperation. UfM's mission is to enhance regional cooperation, dialogue and the implementation of concrete projects and initiatives with tangible impact on our citizens, with an emphasis on young people and women, in order to address the three strategic objectives of the region: stability, human development and integration.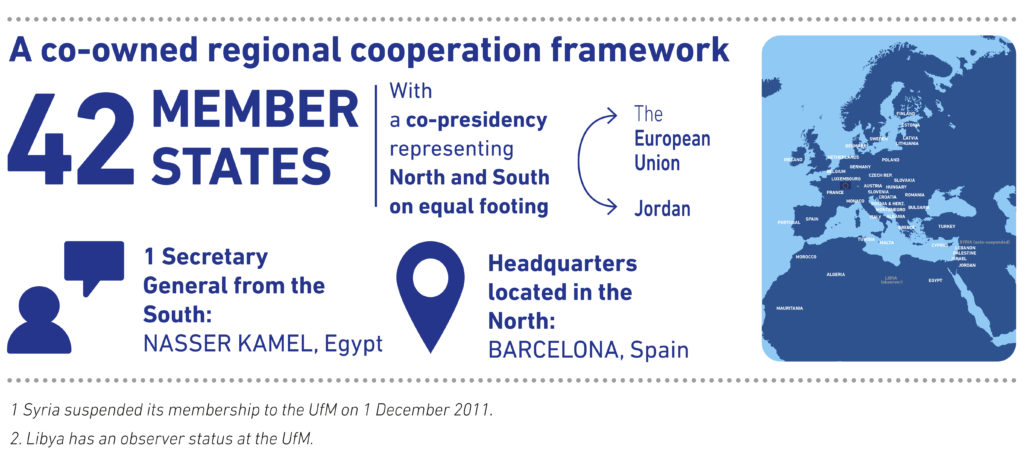 On 17 November 2015, the Ministers of the Union for the Mediterranean (UfM) adopted the UfM Ministerial Declaration on Blue Economy. The Declaration aims at strengthening the potential of the blue economy in the Mediterranean region, as well as improving maritime governance and achieving a conducive environment to promote jobs, innovation and knowledge-based business opportunities through the development of key maritime sectors.
As part of the process leading to the 2nd UfM Ministerial on Sustainable Blue Economy, the UfM Co-Presidency and Secretariat launched an online Stakeholders Consultation between the 11th and 25th of March 2020 to promote the exchange of knowledge and participation within the blue economy community. The consultation was structured around priority themes identified with the UfM Member States, ranging from maritime governance, sustainable food, tourism, maritime transport and ports management to adaptation to climate change, marine energy, blue skills development and employment, safety and surveillance. Around 100 entities – including research centres and universities, public administrations, private sector, international organisations and non-governmental organisations – submitted over 350 substantial feedbacks.
Six years after the first UfM Ministerial Declaration, Ministers adopted a new declaration on Sustainable Blue Economy on the 2nd February 2021, firmly committing to cooperate closely and address joint challenges in key blue economy sectors. They agree to promote transformative policies and tools such as maritime clusters or maritime spatial planning, and support the transition to carbon neutral and circular blue economy. New joint activities and projects will be set up on a wide range of issues, including blue skills, marine litter, marine renewable energies and nature-based tourism.
Useful documents and further information: